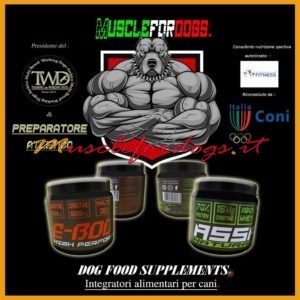 Dog trainer – Consulenza Nutrizionale
Questa nuova sezione della Musclefordogs è dedicata alla consulenza tecnica e sportiva dei nostri amici cani.
– La base di una vita sana è una corretta alimentazione,  uno stile di vita sano con un buon allenamento giornaliero ed una integrazione alimentare naturale per supplire a tutte le necessità del nostro soggetto.
Per ricevere una consulenza, contattare il numero whatsapp- +39.3808969407
Oppure inviare una mail a – musclefordogs@gmail.com 
This new section of Musclefordogs is dedicated to the nutritional and sports advice of our canine friends.
– The basis of a healthy life is a correct diet, a healthy lifestyle with a good daily workout and a natural food supplement to make up for all the needs of our subject.
To receive advice, contact the whatsapp number- +39.3808969407
Or send an email to – musclefordogs@gmail.com