Descrizione
Integratore Alimentare per cani, condroprotettore.
Condro Plus è un prodotto nato a seguito di una notevole richiesta, data dalla carenza di prodotti simili sul mercato.
Questo integratore è somministrabile a qualsiasi cane di età superiore ad otto mesi per favorire, supportare e tutelare la vita e la struttura di arti, legamenti e ossa.
L'elevata percentuale di condroitina e glucosamina favorisce la protezione e l'apporto di nutrienti necessari alla corretta crescita articolare e cartilaginea.
La presenza di artiglio del diavolo, fa si che Condro Plus giochi un ruolo chiave nel lenimento dei dolori articolari nei soggetti di età avanzata, essendo esso un potentissimo ed efficacissimo antinfiammatorio naturale.
Nei soggetti giovani, sottoposti a sforzo fisico, questa sostanza cura eventuali distorsioni, infiammazioni e slogature.
La Vitamina D garantisce la completa assimilazione delle sostanze contenute nell'integratore alimentare.
Condro Plus is a product of the musclefordogs line born as a result of a considerable demand, given the lack of similar products on the market.
This supplement can be administered to any dog over the age of eight months to encourage, support and protect the life and structure of the limbs, ligaments and bones.
The high proportion of chondroitin and glucosamine promotes the protection and the supply of nutrients necessary for proper growth and articular cartilage.
The presence of devil's claw, makes Condro Plus play a key role in the alleviation of joint pain in patients of advanced age, since it is a very powerful and effective natural anti-inflammatory.
In young subjects, subjected to physical exertion, this substance by any distortion, inflammations and sprains. Vitamin D ensures complete assimilation of the substances contained in the food.
testimonianza di un cane che ha utilizzato condro plus per 12 mesi
feedback
analisi del sangue : perfette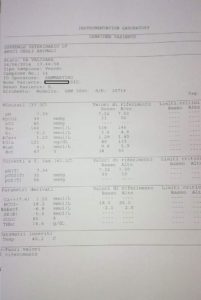 VIDEO:
https://youtube.com/shorts/RprxX0zq__s?feature=share